DURATION
6 months
DELIVERY
Research, Design, Prototype
PLATFORM
Android
The EGG is a multi-family package solution in the form of a series of lockers, which are modular by nature.

The lockers provide residents with the ability to have 24/7 access to their deliveries, couriers with a quick, safe and reliable location to store the deliveries, and property management companies the freedom from the tedious process of accepting and retrieving deliveries for residents.
Legacy product –– visuals are dated, functionality is clunky.
Current state is not ADA compliant.
Look and feel is not visually enticing to users.
Product owner wanted to add more enhancements in future releases, such as the ability to mail outbound shipments due to the popularity of online shopping returns.
Running lean, running agile -- The team consists of a Product Owner, Android Developer, UX/UI Designer and QA. Two week sprints.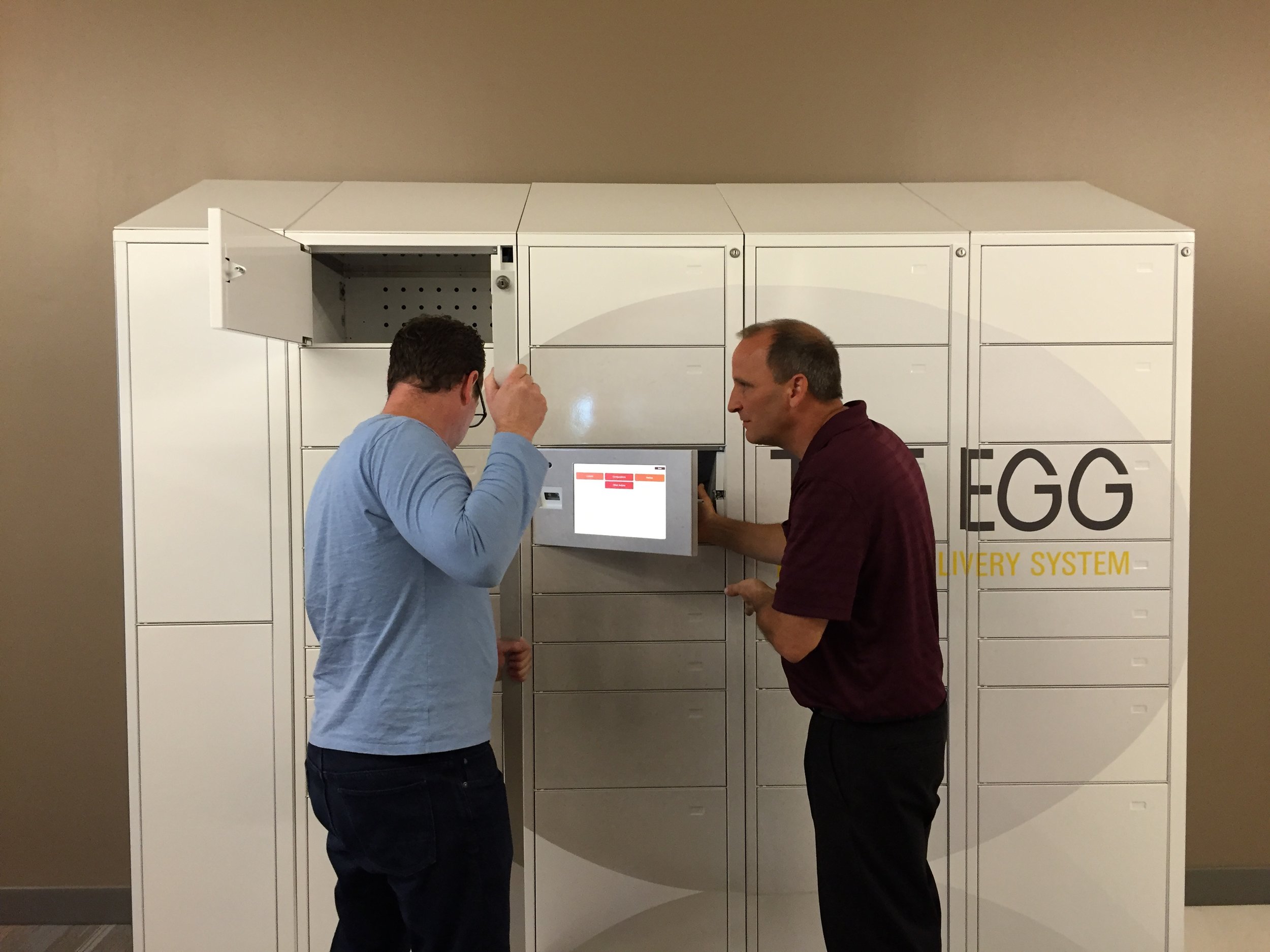 Audience
There are 3 distinct user groups: Couriers, Residents and the property managers and leasing agents employed by a Property Management Company (PMC) at a specific property.
COURIERS
Couriers are able to quickly dispense packages, with a paper trail to manage deliveries.
RESIDENTS
Residents are able to access the lockers 24/7 without assistance from property management.
PMC
Property managers and leasing agents are able to focus on generating revenue.
Research
Contextual Inquiries were conducted at multi-family properties in the Dallas/Fort Worth metroplex and in Houston, TX. Participants from all 3 user groups were observed using the product, in addition to discussions regarding their daily routine, workarounds and pain points.
The interface was noted as "cold," "drab" and "having too many colors" by users.
The Admin panel was "confusing," "not intuitive" and had a "steep learning curve."
After the initial observations, users performed a quick card sorting exercise to help determine the visual hierarchy. I worked directly with the Product Owner to map out the workflow––and to help define his wish list.
Design Process
There were several iterations -- first, in wireframes and other low-fidelity prototypes. Then tweaks based on user feedback from hallway testing and changing requirements: The dimensions of the tablet changed to a larger surface (4x), now had 16:9 dimensions and the orientation also changed from both landscape and portrait to portrait only.

In addition, to comply with ADA guidelines, there were additional requirements: The design needed to be adjusted to accommodate a 48" maximum reach. As lockers were already on order, we needed to adapt the design and the interaction.

During a trip to Houston, this need was especially evident as, by a chance meeting, a wheelchair-bound resident was attempting to access their packages, but their packages had been placed in lockers beyond their vertical reach. This incident not only led to a welcome adjustment in the design, but also led to a change on the backend, where packages for those flagged as handicapped individuals would be placed in the lower two rows of lockers.
Icon designating a handicap-accessible locker location, as well as the time limit enhancement.
Interface Design
Drawing from Material Design principles, I created 3 separate interfaces for the 3 user groups, each with different imagery -- yet consistent components -- and high contrast text and iconography, as some units are outside and suffer from glare. I chose imagery which hinted at warmth and comfort.
I also designed a series of screensaver templates, which ended up being a happy accident -- they were intended to reduce screen burn-in, but also added value to the product itself. PMCs could announce upcoming events or special bulletins, and reduce time spent on designing flyers due to the provided templates.

All customer interactions are performed below the 48" mark.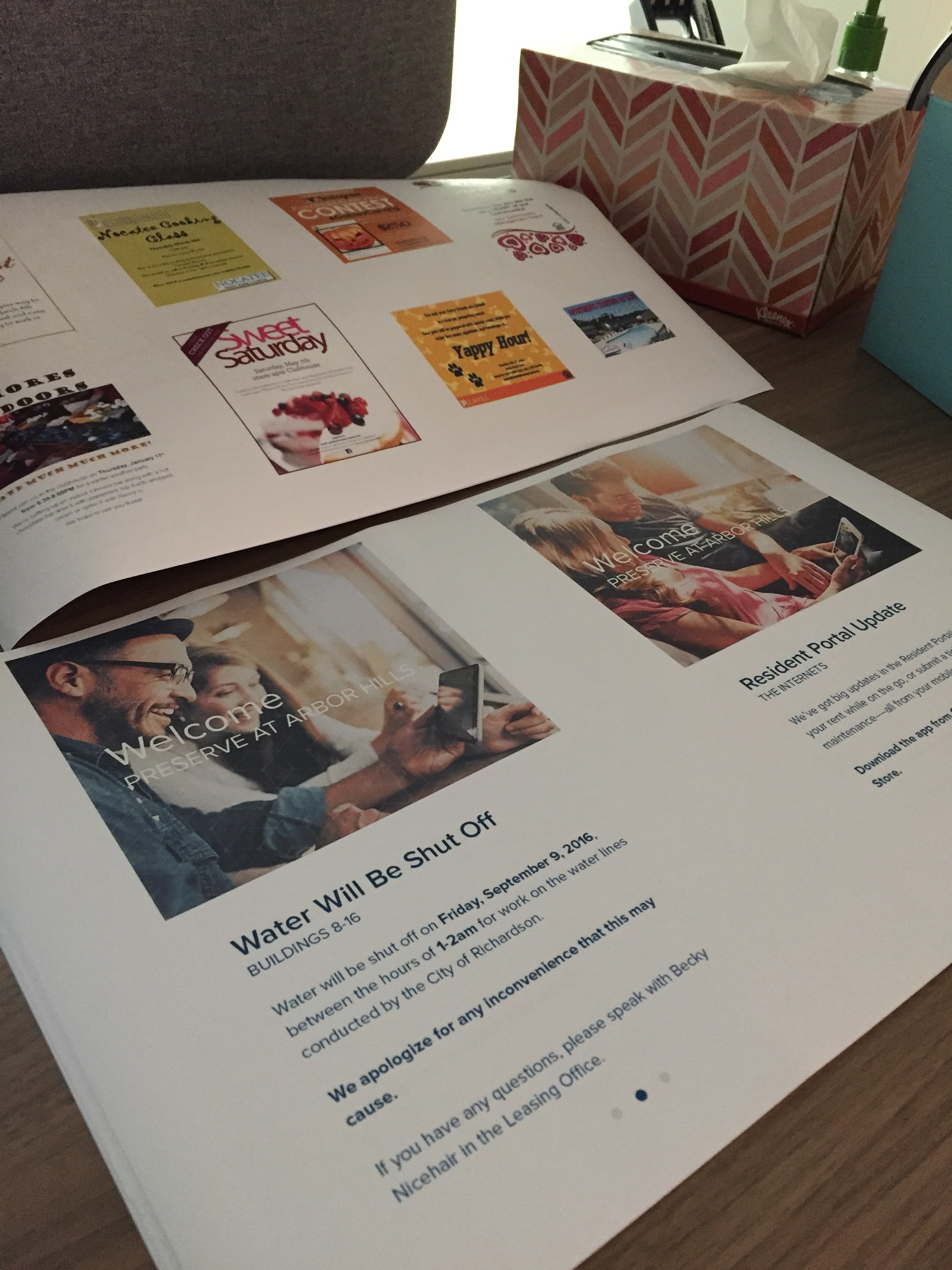 Admin screens (below) show a simplified menu, with navigation at the bottom of the screen. There is now the ability for administrators to override the system to release packages, to mark which lockers are unavailable, and to change miscellaneous settings.
Outcome
Executive leadership was very pleased with the design, but also appreciated the improvements to the flow and functionality of the product. The new design was quickly popularized amongst sales teams and potential clients they were interacting with. Sales increased by 120% over the next 3 months after the UI had been rolled out. More importantly, our small team worked diligently to produce these results and we were proud of what we had accomplished and the improvements we had made, especially for handicapped individuals.